The solid earth research focuses on research in six basic areas:
deep crustal and mantle processes
remote sensing of the Earth's surface using radar and hyperspectral imaging
near surface topography and interdisciplinary studies of geomorphological processes
cryosphere/hydrosphere/solid earth gravity and mass changes
the study of crustal faulting, subsidence and volcano deformation using advanced InSAR imaging methods
understanding the role of the solid earth in monitoring sea level changes
Support for the group is primarily provided by the Solid Earth and Natural Hazards focus area of NASA's Science Mission Directorates.
---
Selected Research Efforts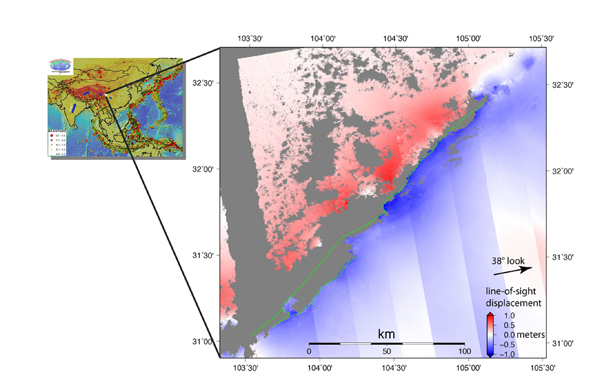 Geoscience and Geodesy
NASA technical advances are allowing scientists to investigate a range of geoscience phenomena from space using geodesy, which is the practice of determining the exact position of places on Earth's surface and Earth's shape, tidal displacements, rotation, and gravity field:
Plate motions, plate boundary zone deformation, tectonics
Interseismic strain and stress accumulation, fault slip rates
Earthquakes, co-seismic displacements, post-seismic transients, possible precursors
Mountain and rift building
Coastal subsidence and inundation
Volcano inflation and deflation
Deformations associated with ongoing and past changes in the cryosphere and hydrosphere
Scientists in the area have special expertise in radar remote sensing of planetary surfaces and radar and spectral mapping of archeological sites. Other researchers employ forward modeling and inversion methodologies for analysis of geophysical data, including earthquake focal mechanism data, co-seismic, post-seismic and inter-seismic strain measurements. Members of the group include project scientists for the recent Shuttle Radar Topographic Mapping (SRTM) mission and Science Team Menbers for the Advanced Spaceborne Thermal Emission and Reflection Radiometer (ASTER) instrument aboard the Terra satellite and the Gravity Recovery and Climate Experiment (GRACE) mission. The group has expertise in mapping properties of the Earths surface, as well as mapping deformations associated with both active and passive volcanoes.
 
Natural Hazard Evaluation and Prediction
Several researchers at JPL have participated and collaborated with the Southern California Earthquake Center (SCEC) and Earthscope (a consortium of universities, private industry and government agencies dedicated to studying the deformation and kinematics of the Earths lithosphere in western North America).