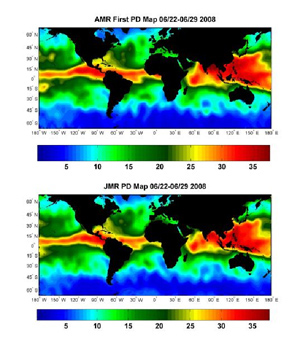 Ocean Science researchers at JPL study the circulation of the oceans, are involved in ocean modeling, and closely watch air-sea interactions. They are committed to contributing to planning for future missions with, for example, simulation experiments. JPL aims for an end-to-end approach to its work,that includes in situ and remote sensing technology, data analysis, numerical modeling, assimilation, prediction, and information management. An important new direction in this area is the development of the expertise and infrastructure required to transition basic science and research to practical operations, providing value-added information and products as well as decision support tools to policy/decision makers. Further information can be found in the Ocean Circulation and Air-Sea Interaction Group and Sea Level and Ice Group webpages.
---
Selected Current Efforts
Ocean circulation dynamics
Ocean-ice interaction
Ocean-water cycle linkages
Tsunami monitoring, modeling, and early warming
---
Current and Future Research Tasks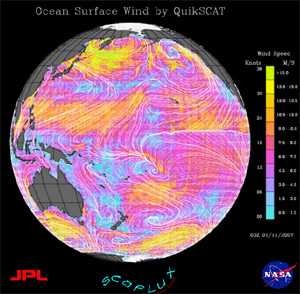 Jason-2
OSTM/Jason-2 continues the legacies of the TOPEX/Poseidon and Jason-1 missions in measuring the dynamic topography of the ocean surface.
Jason-3
The recently launched Jason-3 continues the time series of ocean surface topography data, following on measurements by TOPEX/Poseidon, Jason-1 and Jason-2.
SWOT
The Surface Water Ocean Topography Mission could provide measurements of land surface water storage and ocean surface dynamic topography.  SWOT is expected to launch in 2020.
GRACE
The Gravity Recovery and Climate Experiment mission produces and delivers high-quality, easy-to use data products derived from the GRACE mission.
GRACE Follow-On
GRACE Follow-On (GRACE-FO) is expected to continue GRACE's legacy of tracking Earth's water movement to monitor changes in underground water storage, the amount of water stored in large lakes and rivers, soil moisture, ice sheets and glaciers, and changes to the sea level.  GRACE-FO is expected to launch sometime in 2017.
SMAP
The Soil Moisture Active Passive Mission provides measurements of soil moisture and its freeze/thaw state as well as sea surface salinity.
CYGNSS
With an expected launch date in late 2016, the Cyclone Global Navigation Satellite System (CYGNSS) will measure ocean surface wind speed throughout the life cycle of tropical storms and hurricanes. The mission's goal is a fundamental improvement in hurricane forecasting.