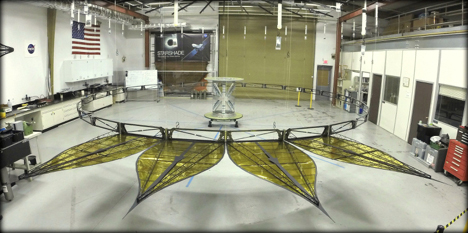 The Advanced Deployable Structures Group operates the ALPS Laboratory to support a variety of technology development needs for precision space structures.  A key current activity is the design, fabrication, and testing of mechanical systems in support of the JPL Starshade, a deployable flower-shaped occulter for exoplanet discovery and characterization.  The ALPS laboratory supports precision testing for a variety of aperture technologies, including UV, Optical, IR, and RF reflectors.  Additional technology development activities include support for the large deployable structures on both the SWOT and NISAR missions, as well as active reflector systems for wavefront sensing and control.
The facility includes:
     NASA Exoplanet Starshade Deployment Testbed
     Precision Environment Test Enclosure (PETE)
The precision systems developed in the ALPS Laboratory include systems at the CubeSat scale (50cm apertures stowed in a satellite that measures 10x20x30cm in size), to the Starshade scale (34m aperture that stows into a 4m cylinder for launch).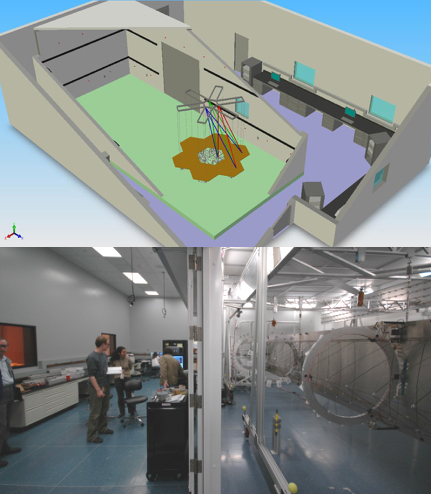 The ALPS Laboratory enables the development and testing of precision structures, with specific applications for:
Electromechanical and optical systems
Rigidizable and inflatable structures
Lightweight mechanical structures
Large aperture support structures
Novel packaging/deployment concepts for CubeSat systems
Large, lightweight, deployable structural systems such as RF antennas, sunshields, solar arrays, occulters, decelerator systems, and solar sails
The Precision Environment Test Enclosure (PETE) is a separate facility in the ALPS Laboratory:
10m x 5m x 3m test enclosure, mounted on isolator bearings.  The PETE has structural mount points on walls and ceiling suitable for gravity offload systems, with a reinforced floor grid.
Provides thermal (<0.01 deg C per hr) and seismic (< 0.0001 G rms) and acoustic (< 35 dBA) stability for precision testing.
Dedicated metrology systems for the characterization of test hardware.
Personnel / Contacts:
Case Bradford (818.393.2793)
Ongoing Research Projects: