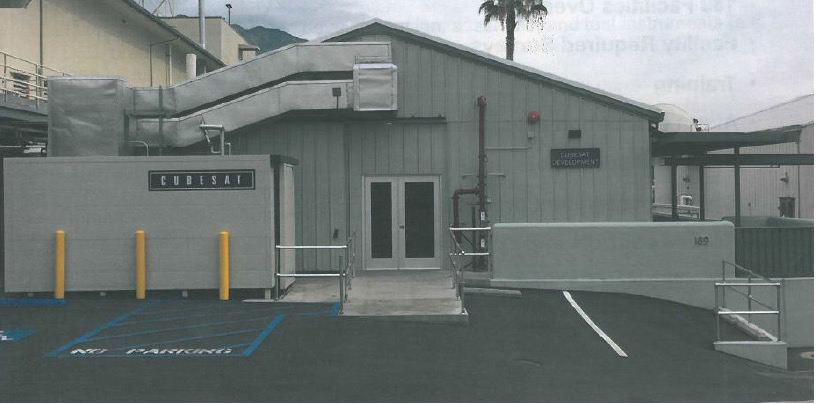 The Cubesat Development Lab (CDL) supports CubeSat development projects with a significant JPL involvement. The CDL is managed by the Instrument Division at JPL.
The physical 1500 sq. ft. facility, supportive of building and integrating flight unit, include:
250 sq ft viewing gallery/meeting room
1250 sq ft clean room
Class 300K (ISO 8.5) controlled environment
Complete internet/private intranet systems
Electrostatic discharge (ESD) flooring
Port for GPS applications
5 pure aire class 100 (ISO 5) clean benches
Limited (small) thermal vacuum facilities
Production soldering and fabrication station
3D printer
Cryogenic ventilation system
Current Status
CDL provides cleanroom support for building and integrating the flight platform.  Other facilities nearby, including the Small Spacecraft Dynamic Testbed, are arising in parallel for testing, building, and integrating major subsystems at early or even later stages, supporting low cost, rapid development. Smaller, specialized facilities can be scheduled for particular kinds of environmental testing. 
Future Planned Directions
Goals for the future of the Cubesat Development Laboratory include:
CDL becomes self-sustaining and is open to those with a JPL partner.
CDL physical facility expands to provide not only 'late stage' clean room facilities for cubesats, but collaborative meeting space for one or more teams, and facilitates access to lab bench space for quick and dirty testing, as well as to 'specialized' facilities such as the Small Satellite Development Testbed for the testing of essential subsystems.
CDL acts as a 'virtual facility', coordinates and provides a rapid, low-cost 'broker' service and logistics support (including reusable 'clean container') for access to major subsystem (external or in-house) performance data and testing in facilities where these subsystems behavior have been thoroughly characterized, documented, and made accessible (SSDT model).
CDL acts as a central clearinghouse for information at every stage of cubesat development for inputs on approaches and resources for the development process through website access and walk-in appointments.