Education:
B. S. Harvey Mudd College, Claremont CA (1969)
Ph. D. University of California, San Diego (1975)
Research Interests:
Gravitational Wave Detectors
Radio Science
Wave Propagation in Random Media
Time Series Analysis
Professional Experience:
Jet Propulsion Laboratory (1977-present; currently Senior Research Scientist)
Postdoctoral Astronomer, National Radio Astronomy Observatory (1975-1977)
Selected Awards:
Henry G. Booker Fellow, International Scientific Radio Union (URSI), 1981
NASA technology awards:

Novel design of a deep-space optical telecommunications system using adaptive near-earth relay mirrors (with C. Yeh and K. Wilson)
A method to cancel exactly the leading noise source--laser frequency fluctuations--in unequal-arm Michelson interferometers (with M. Tinto)
Time-delay-interferometry (TDI): laser noise cancellation and gravitational wave detection with unequal-arm detectors (with F.B. Estabrook and M. Tinto)
Synthetic LISA simulation package (with M. Vallisneri)
A method to correct antenna mechanical noise in precision Doppler tracking observations (with F.B. Estabrook)
Selected Publications:
Woo, R. and Armstrong, J., W., 1979 "Spacecraft Radio Scattering Observations of the Power Spectrum of Electron Density Fluctuations in the Solar Wind", JGR, 84, 7288
Armstrong, J. W., 1984 "Interstellar Scintillation and Ultra-Low-Frequency Gravitational Wave Observations", Nature, 307, 527
Armstrong, J. W., Rickett, B. J., and Spangler, S. R., 1995 "Electron Density Power Spectrum in the Local Interstellar Medium", ApJ, 443, 209
Tinto, M., and Armstrong, J. W. 1999 "Cancellation of Laser Noise in an Unequal-Arm Interferometer Detector of Gravitational Radiation", Phys. Rev. D, 59, 102003
Armstrong, J. W., Estabrook, F. B., and Tinto, M. 1999 "Time-Delay Interferometry for Space-Based Gravitational Wave Searches", ApJ,527, 814
Estabrook, F. B., Tinto, Massimo, and Armstrong, J. W. 2000 "Time-Delay Analysis of LISA Gravitational Wave Data: Elimination of Spacecraft Motion Effects", Phys. Rev. D.62, 042002
Armstrong, J. W., Iess, L., Tortora, P., and Bertotti, B. 2003 "Stochastic Gravitational Wave Background: Upper Limits in the 10 -6-10 -3 Hz Band", ApJ, 599, 806
Armstrong, J. W. 2006 "Low-Frequency Gravitational Wave Searches Using Spacecraft Doppler Tracking", Living Reviews in Relativity, 9, 1 http://www.livingreviews.org/lrr-2006-1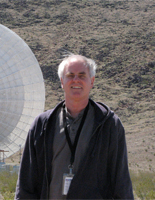 Address:
Jet Propulsion Laboratory
4800 Oak Grove Dr.
Fax Number:
(818) 354-2825